Photo credit:WWE
Shortly after returning from his release, Samoa Joe has been given much more fitting positions to his character.
Samoa Joe returned just a couple of weeks ago to become the new enforcer for William Regal, the general manager of NXT. In the weeks following, Joe has made a huge impact when it comes to the stability of the brand, from putting out Adam Cole on his first night, to scaring off the likes of Karrion Cross and Johnny Gargano.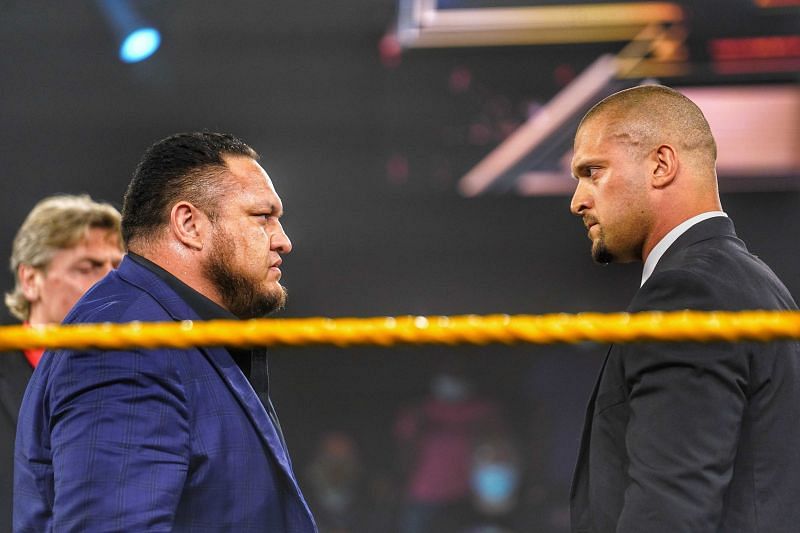 Now, according to a podcast with Ryan Satin, Joe has now gained a much more important position backstage.
"Now im working in the talent scouting department", Samoa Joe said to Ryan Satin, "doing more administrative things behind the scenes."
On the podcast, Samoa Joe states that this was an offer placed by Triple H when being re-signed.
"Me and Triple H had spoken about this transition in-depth" Samoa Joe states.
Joe also mentions how his experience with both participating and watching combat sports, such as MMA or just the wrestling world in general, has helped him with scouting talent.
"Outside of the Indie wrestling world, in the combat sports world and a lot of the athletic world", Samoa Joe said to Ryan Satin, "Just heavy connections. It was a really nice fit."
In terms of his In-ring return, there's not a whole lot to confirm, unfortunately. Joe's wrestling past has been riddled with injuries and restrictions, and at the age of forty-two, that's not exactly the best of conditions for wrestling. Although there are no real expectations to bring the former NXT Champion into the ring, Samoa Joe still brings a positive face to the situation.
"Absolutely.", Joe responds after being asked on the topic, "We'll just say yes and leave it at that."
Would You like to listen to the original podcast?
Here it is, an exclusive interview with Samoa Joe on Ryan Satin's podcast "Out of Character"