photo credit: WWE
According to a podcast episode of the Kurt Angle Show, The returning Hall of Famer, Edge, has aspirations to embark on another rivalry with John Cena.
Cena and Edge were rivals in the 2000s, starting with Edge winning the first-ever Money In The Bank ladder match in 2005. This Money in The Bank victory had led Edge to cash in on a bloody, brutalized, and beaten John Cena after defending his WWE Championship in an Elimination Chamber at New Years Revolution '06. This had started an infamous chain of matches, continuing with a match for the same belt at the Royal Rumble of the same year, then to Backlash of the same year, and ending with a victory for Edge at Unforgiven 2009.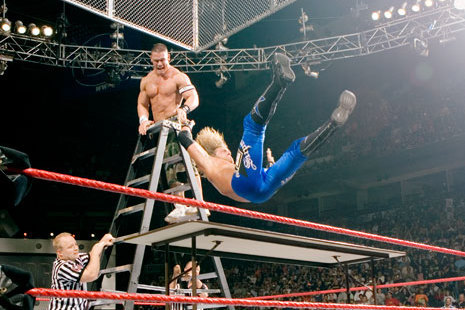 So far, the two have been involved with each other in 52 matches, which does include Royal Rumbles, yet only a handful of one-on-one matches between the two superstars. With that being said though, Edge has come out to state that he does desire a possible Wrestlemania match with the invisible one. 
"The only thing was with John and I, we never wrestled a one-on-one at Wrestlemania", Adam Copeland says (H/T Kurt Angle), "I'm back. The scent is in the air. You never know, it could happen one day."
Both superstars have truly done it all when it comes to the business of pro-wrestling entertainment. From multiple time Royal Rumble victories to holding the brass ring, it would be difficult to say otherwise. A WrestleMania match between Edge and John Cena would definitely go into the history books.