Photo Credit: AEW
Hello Everyone! Welcome to "The Shoot". My name is Ignacio Pinalez III, and this is my first article with Wrestling Republic. I want to emphasize that the opinions expressed in this article and every article I will write are not necessarily the ideals and beliefs of everyone at Wrestling Republic; they are mine and mine alone. With that being said, I pull no punches, tell it straight, and give what I believe what the wrestling product today is being presented as and what it should be. So, without further ado, Today I'm talking about how Chris Jericho is and will continue to be the downfall of AEW.
In 2019, like a lot of wrestling fans, I was excited when Tony Kahn announced that All Elite Wrestling was going to present a more sports-based product giving us a complete alternative to WWE. At their inception, AEW delivered giving us incredible reality-based storylines and matches. This was most prevalent at their first Double or Nothing pay-per-view when the long-time sibling rivalry between Cody and Dustin Rhodes culminated in a bloody hard-fought battle at the event.
Given that the top tier talent such as, Cody, The Young Bucks, Hangman Page, Christopher Daniels, Kazarian, and Kenny Omega, had wrestled for promotions that presented a more sports based product like New Japan Pro Wrestling and Ring of Honor, everything Tony Kahn had promised appeared to be held true; enter, Chris Jericho.
To establish legitimacy, AEW needed a recognizable world champion. Chris Jericho had wrestled all over the world for every major company in the world and among wrestling fans was a household name. It made sense that Jericho would be AEW's world champion. This would bring in the hardcore wrestling fans, the Chris Jericho fans, and the casual WWE fans. AEW needed Jericho as their champion. What they didn't need was what came after his title reign, his booking.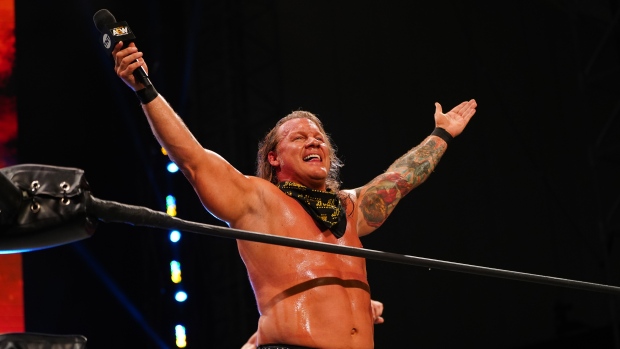 It's been well reported that talent at AEW has lots of creative freedom. This isn't more prevalent than with the ridiculous storytelling, matchups, promos, and events that Chris Jericho has given wrestling fans for the past year. To expand their audience, AEW is trying to out WWE the WWE, and leading the charge is Chris Jericho.
Everyone in my circle knows how proud I am to be a wrestling fan. But nothing has made me think twice about sharing that part of my life than Chris Jericho's booking. From Orange juice matches, to stadium stampedes, bad comedy sketches, to desperately seeking validation from fans and his peers by having them recite his awful theme every time he comes to the ring, Chris Jericho has been will continue to be the downfall of AEW.
At this year's Double or Nothing PPV, Jericho had his fingerprints all over the main event, the stadium stampede. You don't even need to watch the match to see how ridiculous it was, just listen to the commentary. Tony Schiavone can be heard laughing and snickering throughout the whole match, and Jim Ross is obviously ever so reluctant to comment on it. The worst part, Jericho is brining the up and coming talent around him down with him.
Even the biggest stars in wrestling have had regretful promos, matches, gimmicks, etc., but it's a shame that young stars, like Sammy Guevara, Santana, Ortiz, MJF and Wardlow, will have events like the stadium stampede stain their reputations forever because Chris Jericho wants to stay relevant and make a mockery of AEW and the wrestling business.
Everything that Chris Jericho is involved in is embarrassing, humiliating, degrading, and is a gross contradiction to what Tony Kahn promised us at the beginning that AEW would be a sports-based presentation. If Chris Jericho wants to ruin his legacy, he doesn't have to bring a whole company down with him.
We as wrestling fans know what to expect from WWE on Mondays and Friday nights. We don't need to see it on Wednesdays. I plead to Tony Kahn, stop plaguing my screen with Chris Jericho and his bullshit. let the veterans you have around you that don't want to use your money to make a joke of the wrestling business book your show.
That's "The Shoot" I'll kayfabe you later!!!