Credit Photos: WWE
On August 30, 1994, the wrestling world and its fans would change forever. Owner and founder of ECW (Extreme Championship Wrestling) then known as Eastern Championship Wrestling, Tod Gordon, along with head booker, Paul Heyman, would orchestrate the most controversial act of defiance in history. ECW at the time was associated with the National Wrestling Alliance (NWA), a promotion that had dwindled in relevancy since Ted Turner had purchased the Jim Crocket Promotions and eventually separated from the NWA and created World Championship Wrestling (WCW) into his own brand.  Gordon and Heyman felt at the time, that the NWA was a dead promotion, and they needed to make their mark in the wrestling industry if they wanted ECW to survive. Gordon and Heyman, then colluded with their handpicked star, Shane Douglas to condemn their affiliation with the NWA. After Douglas won the NWA Heavyweight Title tournament, Douglas would throw down the NWA Title, and proclaim that the ECW Heavyweight Title was the one and only true heavyweight championship in wrestling. NWA President, Dennis Coralluzzo, stated in interview that evening  that the actions of Douglas were disgraceful and that the NWA would take steps to remove him as champion. Days later, Tod Gordon went on ECW television and proclaimed that ECW had seceded from the NWA, that they the company had been rebranded as Extreme Championship Wrestling, and that they would recognize "The Franchise" Shane Douglas as the first ECW World Heavyweight Champion.  
Years later, amidst controversy, Tod Gordon would sell his shares of ECW to Paul Heyman, who was the head of creative for the promotion. This would make Heyman the owner, operator, head of creative, and any other title you want to throw into the mix. Thus, making Paul Heyman and his creation, ECW, responsible for the problems that exist in wrestling today.
Heyman's intention for the promotion was to change the product to reflect what was being mirrored in pop culture at that time. There was a seismic culture shift in music, television, and entertainment in general. Acts like Nirvana, Green Day, 2-PAC, and Snoop Dog, represented counter culture, and Heyman wanted the same for ECW; he wanted to present a realm of realism, which was in contrast what the major promotions, WWF and WCW were presenting at the time. It was his vision for what wrestling needed to be to survive. Well, what was Heyman's vision, set out to be the downfall of not only ECW, but the entire industry. Heyman, and many  who were in his circle at the time of ECW's prominence have said that if it wasn't for  their venture into realism, counter culture and the macabre, then the WWF wouldn't have gone "attitude', and there wouldn't have been an "attitude era". Heyman has referenced how his co-promoted events with Vince McMahon and the WWF in the mid 90's was McMahon's attempt to gain an advantage over WCW who was destroying them in television ratings. ECW's product was no rules. no boundaries, and no limits. To say it was TV-MA would be a understatement. It was a "blood and guts" promotion later peppered with actual wrestling. It wasn't the wrestling your daddy grew up with. Matches had no count outs, no disqualifications, a gross use of weaponry, an obscene amount of blood, sexual innuendos, and southern Philadelphia fans loved it. Through word of mouth, and tape trading, ECW's fan base expanded in the states. The promotion's base would grow larger after their first PPV, "Barely Legal" in April 1997. Though Heyman and ECW led a revolution, at the same time, they corrupted a generation of wrestling fans into thinking that their brand of wrestling is what wrestling should be.
ECW ruined general psychology in wrestling. How's a promotion suppose to run and injury angle as a creative direction, when everyone in ECW did every possible brutal, bloody, hellacious act to one another other than running each other through a meat grinder, staple each other genitals to a step stool, or shoving razer blades down their throat. The problem was these guys were lighting each other on fire, driving each other through 8 tables, hitting each other with barbed wire baseball bats, and then showing up to a show or TV the next night. All to prove that everyone in ECW was tougher than anyone else in wrestling. What they did in this process was destroy wrestling angles along the way. They did it week in and week out and it diluted the industry so much more when WWF/E and WCW started doing the same thing. "Gimmick" matches at one point were used to end a feud. Cage matches were used to end a bitter rivalry between two foes for example, Dusty Rhodes and Ric Flair, or Magnum TA and Tully Blanchard. But when you see a gimmick match every single week, they absolutely lose their luster. Furthermore, the combatants show up to live TV the next day or next week like nothing happened. So how is someone supposed to take these angles and matches seriously?
Not to mention, these type pf matches were made frequently with no creative direction. There was no build up or end game. This can be seen even today with lazy booking angles. When a promotion doesn't know what to do with a feud they've booked, they book a gimmick match that seemingly makes no sense. Again, lazy booking. ECW's weekly booking of these types of matches and angles has led to the instant gratification culture that exist in wrestling today. "Fans" today don't appreciate long term story telling because they want to see a high spot, or a "hardcore" spot and it has desensitized them so much they don't even realize it. ECW led the charge for this instant gratification culture in wrestling. Think about how many tables get crashed through, how many chair shots you see; the gross use of weaponry and gimmick matches was spearheaded by ECW and audiences have grown to think that that's what wrestling needs to be.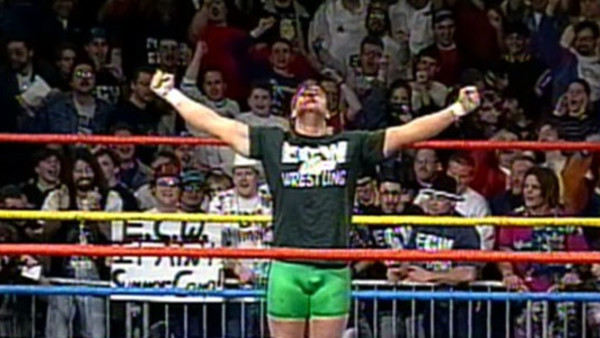 ECW was also the forerunner, for what is now known as "deathmatch" wrestling. This obscene trash runs rampant in arenas and backyards everywhere and thanks to the social media age anyone can see this crap at their fingertips. It casts an enormous shadow over what wrestling is really suppose top be. Just think, someone who know who doesn't know about wrestling catches that on TV. They see guys hit each other with fluorescent   light tubes, slicing each other with pizza cutters and stapling each other's foreheads, they might have a different opinion of you and your morality and rethink their relationship with you. ECW gave birth to outlaw mudshow death match promotions  like XPW and Game Changer Wrestling (GCW) which are nothing more that freak show blood and guts promotions and if you want to know more on how full of shit these people are who play wrestler, look no further than GCW's " champion" Nick Gage. Gage has repeatedly referenced how ECW, Mick Foley, and Terry Funk were his inspiration for becoming a deathmatch mudshow bullshit wrestler. In an episode of the Vice TV series, "Dark side of the Ring" titled, "The Ultra Violence of Nick Gage", Gage recalls a time he met his idol, Mick Foley, at an independent show and when he tells Foley that he was his inspiration for becoming  a deathmatch wrestler, Foley apologized for the influence he had on him. So, there you have affirmation that this crap isn't wrestling, that Foley himself has his reservations and partly blames himself for being an inspiration to these morons that think stabbing each other with broken glass is wrestling. This deathmatch bullshit that ECW started is a fucking perversity and not in a good way. it's embarrasing, humilating, and an abomination that it would be referenced as wrestling
Now I don't have time to put down all my counterpoints to all the arguments that will be made, but I'll make a few that I anticipate. Some people will say," Well, what about
Chris Jericho, Lance Storm, Eddie Guerrero, Chris Benoit and Dean Malenko? They all came from ECW." Well, Chris Jericho and Lance Storm got their big push in Jim Cornetto's Smoky Mountain Wrestling. Guerrero, and Benoit had already been featured on WCW television. Though these wrestlers presented a tradition style mixed in with a hybrid version we are familiar with today, they weren't the focal point of the promotion and weren't meant to be. And for you New Jack fans out there, Jack got his start in Cornetto's Smoky Mountain Wrestling, and learned how to cut a promo and the substance of wrestling there.
ECW was different and innovative, but it's long term influence on wrestling has been far more damaging than any benefit it had to it at one time. Its ruined wrestling psychology, it ruined certain angles, it ruined gimmick matches, and was the precursor to outlaw mudshow bullshit wrestling. So, if you're going to praise Paul Heyman today for his innovative ideas, and more recently his work with Roman Reigns, you also must hold him accountable for making ECW for what was and destroying wrestling.
Thank you for reading, tell me how your wrong in the comments below because I know I'm right.